The Revenue Details button on the REACH.ai dashboard allows you to see specific details of all REACH.ai bookings on a monthly basis.
In the REACH.ai dashboard "Results" tab, you can click on the Revenue Details button to see specific information about REACH.ai bookings. See below: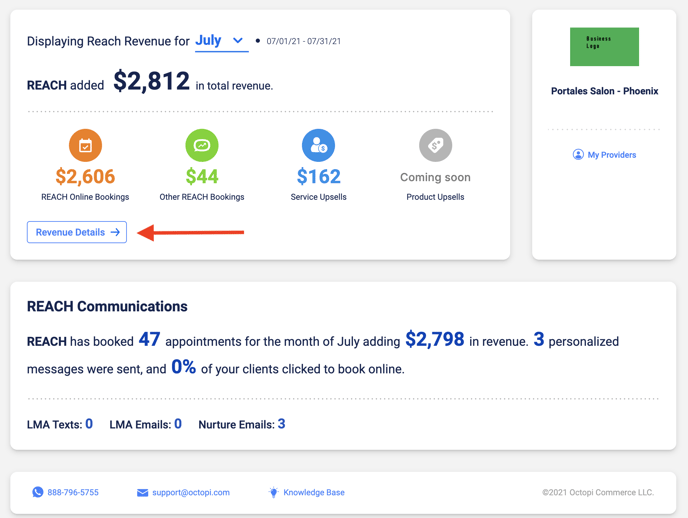 When viewing your Revenue Details, you can toggle the view by changing the month via the drop down in the upper right corner.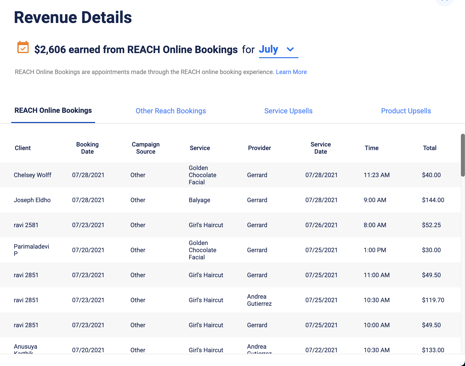 You will see four tabs of the different ways REACH generates revenue:
REACH Online Bookings - REACH Online Bookings are appointments booked through the REACH.ai online booking experience (Book Now button in emails or texts).
Other REACH Bookings - Other REACH Bookings are generated outside of the REACH online booking experience. For example, a client booked over the phone after receiving and viewing a communication from REACH.ai.
Service Upsells - Revenue generated from additional services booked by customers using the REACH.ai service upsell model.
Product Upsells - Coming soon!
Note: With this view you can see who booked, on what date they booked, how they booked along with the service details (service date, provider, time and price). If you need to download this information, doing so from your POS is the best option at this time.