Getting started with Results Dashboard
Here is where you will be able to see a high-level overview of your business revenue booked through the REACH.ai platform. The top half of the page will track bookings and revenue while the bottom half of the page tracks communications sent to your guests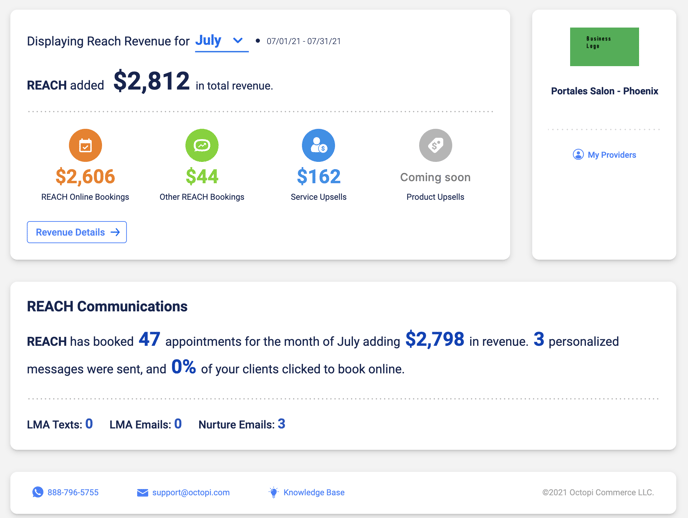 If you click on Revenue Details you can see a detailed listing of all bookings over the applicable time frame. You can customize the view by using the drop down in the upper right hand corner to see bookings over the past several months.
Your revenue details are broken down into the following tabs: Client, Booking Date, Campaign Source, Service, Provider, Service Date, Time, and Total.
When viewing REACH Communications you will find for the applicable month the number of appointments booked by your clients, the total revenue of those bookings, number of messages sent by REACH.ai and the percentage of your customers that that clicked those communications to book via the online booking module. Below that you will find a breakdown of those communications: LMA (Last-Minute Appointment) Texts, LMA Emails, and Nurture Emails.
If you have any questions on the information displayed here please read through some of the FAQs, or reach out to us via one of the support links at the bottom of your dashboard.