Overview of the My Providers section in REACH under My Business
REACH pulls over the providers and their profile information from Meevo 2 including First Name, Last Name, Email, and Phone number. Be aware that you will not be able to edit these fields within REACH, these can only be changed through Meevo 2. Only provider Photos & Employment Status are changed in REACH. Below are instructions on where to find and edit this information.
Any updates made to your providers' profiles in Meevo 2 can take up to 24 hours to reflect in REACH.
Where can I add/edit the providers' information in Meevo 2?
Click on the Meevo logo in the top left of your screen.

Select Data

Click on the Employees tile

Select Search and choose a provider
Make sure you are within the Main tab on the left-hand side. Within this tab is where you will edit/add your provider's information that will be used in REACH.

The only fields that will pull over into REACH are:
First & Last Name
Email Address
Phone Number
Where do I find the providers' information in REACH?
Click on the person icon on the bottom left-hand side & click on My Business.

Click on the My Providers tab

Here you see an overview of your providers. To see more information and update a provider's photo and employment status click on Details.

From here you can upload the provider's photo and/or their Employment Status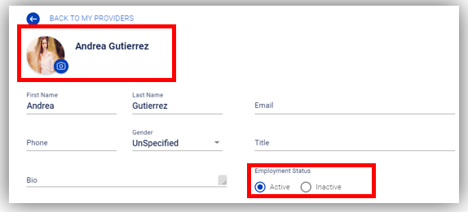 These are the ONLY 2 fields that can you can update in REACH. All the other fields are changed directly in your Meevo 2 software - instructions on how to do this are at the beginning of this article.